3126 CATERPILLAR® CAT 3126 3V HEP DIESEL LONG BLOCK ENGINE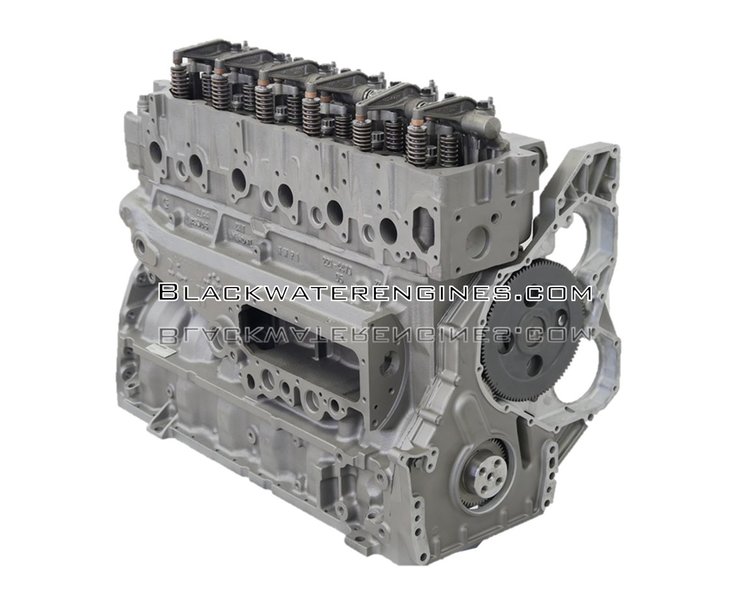 Starting At
Call for Pricing
Core Charge
Engine: $1125.00
Warranty
1yr Unlimited Miles or Hours Commercial
Options Upgrades
This Long Block covers truck Engine Serial Numbers(ESN) HEP only with the 2 piece steel or 1 piece Aluminum Piston.
You will receive the Long Block, as pictured, along with the new Oil Pump & the Long Block Gasket Set. You will need to follow the installation instructions found under the documentation tab on the home page. A copy of the installation instructions (along with various other documents for your review) will be included with the Long Block shipment.
PLEASE READ & REVIEW THE INSTALLATION INSTRUCTIONS WITH THE INSTALLER!
Our Remanufactured 3126 (3 Valve Per Cylinder) Caterpillar® Long Blocks are assembled using Interstate McBee, Mahle, Caterpillar® and IPD Diesel Parts. New Std. or .020 Piston Kits, Rod Bearings, Main Bearings, Cam Bearings, Gasket Set, Oil Pump, and Several Valve Train Components are Replaced.
We do not spray weld cylinder walls back to standard bore. Some Remanufacturers and OEM have moved to this type of repair process, we have not. We machine the block in 4 axes CNC Machining Center to convert the block to a dry liner style of engine, similar to a Kubota or an Isuzu block. We install custom made ductile iron liners that we have made in the USA!
PROPOSITION 65 WARNING:
WARNING: Crude oil, gasoline, diesel fuel, and other petroleum products can expose you to chemicals including toluene and benzene, which are known to the State of California to cause cancer and birth defects or other reproductive harm.
For more information go to https://www.p65warnings.ca.gov/
Long Block & Rotating Assembly
Cylinder Head
Valve Train
Low-Pressure Oil Pump
Gasket Set
Front Gear Train Housing
Gasket Set - To consist of:
Front & Rear Crank Seals & Wear Sleeves - Oil Pan - Intake - Exhaust - Water Pump - Thermostat - Front Cover - Valve Cover - Oil Cooler Gaskets. Also includes various O-Rings for the Oil, Coolant & Fuel System.
If Your Engine has a Plastic Oil Pan Gasket, It Must be Purchased Separately.
ANY GASKET NOT INCLUDED WITH THE LONG BLOCK MUST BE PURCHASED SEPARATELY.
All engines are blueprinted. Blueprinting is defined as removing or narrowing the tolerances found in mass production engines. The rod, main, & cam clearances are measured with a dial bore gauges & micrometers. Bearings clearances are set depending upon the application (truck, marine, machine, etc.). Piston & valve guide clearances are set with dial bore gauges. Cam timing events are measured and adjusted. Valve recession & piston protrusion measurements are taken, this is critical in a diesel engine. A specification and build sheet are available for each engine.
We do not weld or repair cracked blocks or heads. We do not weld damaged crankshaft journals.
We do not spray weld any components in the machining process. Some remanufacturers have turned to spray welding cylinder walls back to standard bore. We do not spray weld cylinder walls. If the block must be standard bore due to piston availability, then we convert the block to a dry liner style of block, similar to a Kubota or Isuzu block. We use a ductile iron upper flange liner that we have custom made in the USA.
Cylinders are machined in Milltronics & RMC CNC Machining centers & honed in Sunnen CNC cylinder hones with diamond abrasives (OEM technology).
Main bearing saddles are align honed or align bored. This is part of the blueprint process. We do not try and repair blocks with "spun" main bearings.
Block decks are resurfaced with CBN inserts in Milltronics & RMC CNC Machining centers. This is the latest technology in surfacing cast iron. We machine the block deck to the recommended RA finish and we use a profilometer (a device used to check surface finish) to check the surface finish after machining. We do not use head gasket "shims" to correct block deck height errors.
Crankshafts are heat treated in thermal convection ovens, which is better and easier on the casting than the standard thermal oven, shot peened to relieve casting stresses, and machined a maximum of .010 on rod & main journals. Our crankshafts are then balanced in Stewart Warner digital balancers. No welded crankshaft journals! No rear seal "speedie" sleeves, which will leak over time! Most all production rebuilders do not balance their cranks, rods, & pistons.
Connecting rods are also heat treated, shot peened and machined to OEM specifications. We machine the pin bushing in CNC machining centers to equal center to center lengths. This is part of the blueprinting process. Matched & balanced sets of rods. We do not try to recondition rods with "spun" bearings.
Cylinder heads are remanufactured to exceed OEM specifications in Rottler or Serdi valve seat machines. Valve guides are replaced & honed in Sunnen guide hones. Head gasket surfaces are refinished with CBN inserts, the latest technology in the resurfacing of cast iron. Surfaces are then checked with the same profilometer used on block gasket surfaces.
We do not weld or repair cracked or damaged cylinder head castings. We do not "shim" weak valve springs to increase pressure, they are replaced. We do not use bronze valve guide liners like some production rebuilders as they will commonly fail. We replace the valve guide we do not try to repair it.
All assembled long blocks are tested for compression before shipping. Our engine builders are ASE master engine machinist.